biography:
SWEET WILLIAM exist since 1986. The band is founded by Oliver Heuer. In 1989 SW record their first album "These Monologues". In 1990 it is first released on Vinyl on Big Noise Rec. Because of the good sales other record companies are interested in SW. In 1991 SW sign a contract with Hyperium/Rough Trade. The albums "These Monologues" (CD rerelease), "Kind Of Strangest Dream" and "DevelopmentThrough The Years" are released in that period. In that time SW play several tours through Europe. In 1994 their tour ends at the Marquee Club in London. In 1998 SW release the album "Show" on Dion Fortune Rec. The album reaches postion 14 in the German Alternative Charts and stays there for 4 weeks. After some years marked by line up changes the band finds a new drummer in 2001 and starts to record several albums and EP`s which are released on their own label. In 2010 SW release the album "Brighter Than The Sun" on the French label d-monic. Good press reviews and world wide good sales follow. In 2012 the French label Infrastition rereleases the album "Kind Of Strangest Dream 2012" as a 20th year anniversary cd, limited 444 copies. In may 2013 the new release "Ocean" a concept album with 74 minutes of music will be out on d-monic. In 2015 d-monic rec. releases the album "Live on the French Riviera 1995" - a live cd recorded in Valbonne, 2015. In 2015 SW were asked to play an acoustic concert in Paris. The reactions are overwhelming. SW start to work on new acoustic songs. The band plays some more acoustic shows at the end of 2015. 2016 will be the year of the 30th anniversary of SW. Therefore some special releases are planned. First release is the book "1986 - 2016". The next three releases are the acoustic album "Organic Shades", the album "Rarities 5" and the CD Box "Rarities 1986 - 2016". Besides that the final recordings and mixdowns for the new album "TIME" are made. In November 2016 "TIME" is released on d-monic/datakill records. In 2017 SW start to record some of the tracks from the very beginning of the band. Tracks from 1986 - 1988 that were never recorded before in a studio. The result is released on the album "THE EARLY DAYS 1986 - 1988". The album is released on D-Monic/Datakill records 31.01.2018. From 2016 - 2019 SW also start to record several acoustic songs. They are released on the album "Laughter Filled With Pain". The album is released on Datakill Records, June 2019.
biographie:
SWEET WILLIAM bestehen seit 1986. Gegründet wird die Band von Sänger/ Gitarrist Oliver Heuer. 1989 produzieren SW ihr erstes Studioalbum "These Monologues". Die Platte erscheint zunächst auf Vinyl 1990 bei dem Kölner Label Big Noise/ Dion Fortune Records. Als Single Auskopplung erscheint die 7" EP "To Have A Relapse". Aufgrund der guten Verkaufszahlen steigt das Intresse anderer Plattenfirmen an SW. Der zu seiner Zeit wichtigste Mailorder Versand Malibu schreibt 1991: " Unser heimlicher Bestseller ..." 1991 unterschreiben SW einen Vertrag bei Hyperium/Rough Trade. Es erscheinen die Alben "These Monologues" (CD Wiederveröffentlichung), "Kind Of Strangest Dream" und "Development Through The Years 1986 - 1993".Die Band spielt in dieser Zeit mehrere Touren in ganz Europa, u.a. in Holland, Belgien, England, Frankreich, Tschechien ... Trotz guter Presse und zahlreichem Airplay kommt es zu Unstimmigkeiten mit dem Label Hyperium. 1998 erscheint das Album "Show" erneut auf dem Kölner Big Noise Label. Die Platte erreicht in den Deutschen Alternativen Charts die Top 15 und hält sich dort 4 Wochen. Nach einigen turbulenten Jahren, gekennzeichnet von diversen Umbesetzungen, haben SW Anfang 2001 wieder zu einer festen Besetzung gefunden. Seit dem erscheinen diverse Alben sowie EPs auf dem eigenen Label Datakill. 2010 erscheint das Album "Brighter Than The Sun" auf dem französischen Label d-monic. Das Album bekommt sehr gute Presserezensionen und verkauft sich weltweit gut. 2012 veröffentlicht das Französische Label Infrastition das Album "Kind Of Strangest Dream" zum 20 jährigen Jubiläum in einer limitierter Auflage von 444 Kopien. Im Mai 2013 erscheint nun das neue Album "Ocean", wieder auf d-monic – ein Konzeptalbum mit einer Spieldauer von fast 74 Minuten. 2015 veröffentlicht d-monic das Live Album "Live on the French Riviera 1995". 2015 spielen SW ein Konzert mit ausschliesslich akustischen Versionen alter Stücke. Die Reaktionen sind überwältigend. Die Band erarbeitet neue akustische Lieder und spielt Ende 2015 einige akustische Konzerte. 2016 werden SW 30 Jahre alt. Aus diesem Grund wird es einige spezielle Veröffentlichungen geben. Im Mai 2016 erscheint das Buch "1986 - 2016". Folgend erscheinen 3 Alben, das Akustikalbum "Organic Shades", "Rarities 5" und die CD Box "Rarities 1986 - 2016". Im gleichen Zeitraum werden die letzten Aufnahmen und Mixdowns für das neue Album "TIME" fertiggestellt. Im November 2016 erscheint "TIME" auf d-monic/datakill Records. 2017 beginnen SW Stücke aus der Frühzeit der Band aufzunehmen. Lieder die nie zuvor in einem Studio aufgenommen wurden. Das Ergebnis ist unter dem Titel "THE EARLY DAYS 1986 - 1988" auf D-Monic/Datakill Records erschienen. VÖ Datum 31.01.2018. Im Zeitraum 2016 - 2019 nehmen SW immer wieder akustische Stücke auf. Sie sind nun auf dem neuen Album "Laughter Filled With Pain" auf Datakill Records erschienen. VÖ Datum 01.06.2019.
SWEET WILLIAM:
Oliver Heuer - vocs, guitars, bass, synths, programming
Marius Nagel - drums, percussion, synth, organetta
Pressestimmen - Reviews:

Laughter Filled With Pain
Background/Info: The German formation Sweet William has been driven since 1986 by Oliver Heuer. The band has released multiple productions, celebrated their 30th anniversary by some special releases and remained active. "Laughter Filled With Pain" is their newest opus featuring eight new songs. The album is also available as vinyl and a special edition featuring both, CD and vinyl.
Content: The main characteristic of this work is the acoustic format. It's neither a new thing nor challenge for Sweet William, but the least I can say is that it sounds different and a bit 'out of the box'-like. It creates a very authentic sound, the songs mainly written by guitar but still featuring violin and strings. The songs have something emotional, which is also reinforced by the vocals of Oliver Heuer. The last cut is featuring guitar, but you here also will hear noticeable synth parts.
+ + + : The work has something authentic and minimal. The songs are beautiful and there's a deeply melancholic touch emerging at the surface. This work sounds a bit like a challenge, Sweet William leaving their comfort zone, but the result is surprising. It's an artistic exposure featuring a few beautiful compositions.
Conclusion: Sweet William decided to share a very intimate moment with their fans; the work revealing certain fragility emerging from the emotional side of the album.
Best songs: "New Wings", "Memories", "Laughter Filled With Pain".
Rate: (7).
Artist & Label: www.sweetwilliam.de / www.facebook.com/sweet.william.dianthus.barbatus
By Inferno Sound Diaries SIDE LINE MAGAZINE

Laughter Filled With Pain
In dieser Zeit hat sich auf der hiesigen Seite des großen Teichs, genauer gesagt: im beschauliche Kerpen, Oliver Heuer entschlossen, Sweet William zu gründen. Ebenfalls von den dunklen Klängen von Bauhaus und Joy Division inspiriert, suchten sie in der Zeit der zweiten Welle des Gothic-Rocks Ende der 1980er Jahre ihr musikalisches Glück. Gefunden haben sie aber mehr: Zwar sind Oliver und seine wechselnde Besetzung immer stark von der Melancholie geleitet, stilistisch wagte man aber auch große Sprünge, wie beispielsweise mit dem 1998er "Show", das bereits Jahre zuvor aufgenommen wurde, aber aufgrund seiner Prog-Rock-Richtung dem alten Label Hyperium missfiell. Erst unter Dion Fortune wurde das Werk veröffentlicht.

Inzwischen befindet sich die Gruppe in der komfortablen Lage, unabhängig und ohne nervösem Zwischenfunken irgendwelcher Plattenfirmeninhaber, die ihre Felle bei zu groß eingeräumter künstlerischer Freiheit davonschwimmen sehen, ihre Ideen auszuformen. 2016 mündete dies in "Time", einem herrlich unkomplizierten Werk zum 30jährigen, das Elektronik mit Gitarren überkreuzt und dabei so ungezwungen klingt, wie es nur jene schaffen, die eine lange Erfahrung und ein entspanntes Verhältnis zum Geleisteten mit sich bringen.

Nun erfinden sich Sweet William auf ihrem aktuellen Werk "Laughter Filled With Pain" ein weiteres Mal neu - reduziert, nur mit elektronischen Spurenelementen versehen, dafür aber mit einer neu entdeckten Liebe zur Akustik. Wenn bei "Would You Mind" und vor allem "Day After Day" entstöpselte Gitarren ihre kontemplativen Arpeggios darbringen, kehrt auch beim Hörer eine gewisse nachdenkliche Ruhe ein, begleitet von einer leichten Traurigkeit, die vor allem bei letztgenanntem Stück überdeutlich ist: "Day After Day" ist der Versuch des Protagonisten, nach einer Trennung - welcher Art auch immer - in die Normalität zurückzufinden. Allein, es scheint ihm nicht zu gelingen.

Ebenso träumt sich "Memories" durch beendete Beziehungen, die nur in Gedanken bestehen bleiben. So wenig hoffnungsvoll der erste Teil von "Laughter Filled With Pain" aber auch sein mag, setzt man auf "Tomorrow" auch einen zwar tränenumwölkten, aber doch bestimmten Blick nach vorne. Die verzerrte Stimme bei "Release Me" deutet den Ausbruch an, der in "New Wings" und dem fast schon logischen "A New Horizon", wo die Akkorde nicht mehr gebrochen, sondern fest und voller Zuversicht eingespielt werden, sich deutlich abzeichnen.

Das Album tritt sprichwörtlich aus dem Dunkel ins Licht und kann als ein ganz großer Wurf dieser immer unterschätzten Band gesehen werden.
Daniel Dreßler Unter-Ton Magazin
SWEET WILLIAM – Laughter Filled With Pain (CD / 10")
Passend zum sicher bald einsetzenden Herbst präsentieren uns die schwer, dunklen Rockwaver / Neo Psychedeliker von SWEET WILLIAM aus der Nähe von Köln ihren neuen Longplayer mit 8 wundervoll arrangierten Acoustic Tracks, erhältlich als CD Digipack, als Digital Release auf einigen Download Plattformen und auch als lim. "10" Vinyl Aufnahme mit 6 Tracks ( hier fehlen "New Wings" und "A New Horizon" ). Ich mußte bei den ersten feinen Klängen fast an die Acoustic Platten von ESCAPE WITH ROMEO denken, da hier genauso atmosphärisch, spannend, intim und filigran, leise sowie geschmeidig gerockt" wird. Ich kannte SWEET WILLIAM, die es schon seit über 30 Jahren gibt, bisher nur von der Platte "The Early Days 1986 – 88" und vom letzten Album "Time" aus 2017, von dem mich der Gratis Download des Tracks "A Means to an End" total begeistert hatte, der Song ist ja bekanntlich eine Coverversion von JOY DIVISON und diese ist Oliver Heuer und Co. wirklich hervorragend gelungen. Teils merkt man eben die Vorlieben des Frontmannes für kreative End 70iger Bands wie PINK FLOYD, ELO, JOY DIVISION, HAWKIND etwas an.
Die melancholischen Klangperlen über die Einsamkeit und Verzweiflung, die aber auch immer mit einem Stückchen Hoffnung versehen werden, so das der Hörer stehts den positiven Silberstreif am Horizint erblicken kann, können mich nach mehrmaligen Hören wahrlich begeistern, man muß den Songs einfach Raum und Ruhe geben, dann entwickeln sie sich zu großen und wahren, sowie genußvollen Klangerlebnissen.
Die meisten Texte der Platte sind spontan erstellt worden, man kann es als eine Art Reflexion des Unterbewußtseins benennen. Einfache Musikstücke mit kurz, erzählten Geschichten von den dunklen Momenten des Lebens, vielfach auf das Wesentliche reduziert und in einem einzigartigen Seelenstrip mit großem Pathos von der eindringlichen Rockstimme von Oliver vorgetragen. Der erste Track, auch Titel der Veröffentlichung, geht schon etwas schwermütig mit leicht leidender Stimme los, aber allein der Track "Would you Mind" ist wunderbar, perlender Gitarrenwohlfühlsound und mit seiner weichen Stimme intoniert, das macht Spaß, in "Tomorrow" wird es traumhaft schwelgerisch und in "Memories" wirds passenderweise nachdenklich und bei "Release me" kommt dann so richtig musikalische Hoffnung auf, ein fulimantes und großartiges Werk der Band.
Interessant war in einem Interview zu lesen, das SWEET WILLIAM im Ausland eine größere Fangemeinde haben als hierzulande, was ja vielen Groups der "sogenannten" Szene so geht, darauf antwortete Oliver : "Das kann darauf zurück zu führen sein, das im Ausland den Leuten jegliche Szene Zuordnung meistens völlig egal ist und erst gar nicht die Frage aufkommt, wo SWEET WILLIAM musikalisch zuhause sind, dort sind wir einfach Musiker aus Germany. Die mag man dann oder eben auch nicht" !
Dem ist glaube ich nichts mehr hinzuzufügen und so werde ich mich einmal umgucken, ob SWEET WILLIAM in der Nähe live auftreten, dort möchte ich mal hören wie die Tracks im Livegewand daherkommen. (S.Erichsen)
https://www.blackmagazin.com/?p=22264#more-22264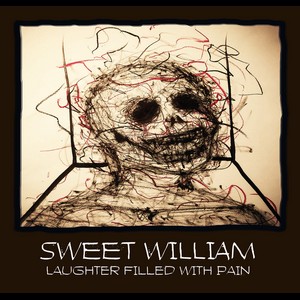 (Datakill Records)
Time: CD (34:39)
Rating : 6.5
I tedeschi Sweet William, dopo una carriera trentennale ed oltre venti full-length (con variazioni di line-up incluse), salutano il 2019 con l'atmosferico "Laughter Filled With Pain", album completamente acustico nel quale Oliver Heuer e soci tentano nuovamente di variare il loro stile sonoro (gli esordi dark in puro stile Sister Of Mercy e le successive partiture elettroniche sembrano ormai essere un lontano ricordo). Con i tempi che corrono, produrre un disco di questo tipo è sicuramente un atto di coraggio non indifferente, ma la qualità di un artista sta anche nella sua capacità di osare e di cercare nuove aperture sonoro/stilistiche. Presentato in formato digipack mediante una copertina surreale ma dai contorni piuttosto inquietanti, il lavoro si apre con la title-track, ovvero un brano dall'andatura folk dai tratti decadenti dove la voce calda - e a tratti blues - di Oliver si inserisce in modo armonico e incisivo tra gli accordi, decadenti ma sottilmente malinconici, della chitarra acustica. La successiva "Would You Mind", invece, riscalda l'atmosfera mediante un mix di dolci arpeggi acustici e tappeti d'archi molto suggestivi, con la timbrica del cantante sempre molto avvolgente, caratteristica riscontrabile anche nella seguente " Day After Day", componimento avvolto da svariate sovraincisioni di tastiera che nell'insieme, oltre a rendere il tutto più corposo, infondono una suggestiva sensazione di dolcezza (da questo punto di vista, efficace anche il testo). La situazione non sembra cambiare neanche nelle seguenti canzoni, restituendo all'ascoltatore dei componimenti dove l'acustica si inserisce perfettamente all'interno dei vari contrappunti di synth (è il caso di "Memories", traccia che presenta anche un piccolo assolo di chitarra), o dove addirittura i musicisti cercano di sintetizzare il tutto (la bella "Release Me", guarda caso il brano meglio arrangiato dell'intera opera). Sebbene le composizioni avrebbero necessitato di maggiori variazioni, il lavoro in questione è indubbiamente di buon livello, grazie anche ad una certa raffinatezza che traspare per tutta la sua durata.
Denis Di Nicolò
Sweet William – The Early Days 1986-1988
(CD Album – D-Monic / Datakill Records)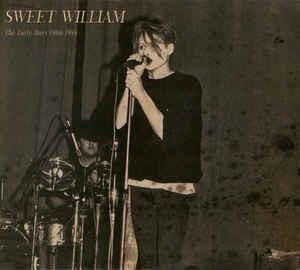 Background/Info: German formation Sweet William saw the daylight in 1986. Set up by Oliver Heuer and joined by Marius Nagel and Bodo Rosner the band started composing their first songs. While their now can look back at a serious discography, this work brings us back to the first hours of the band. Eleven songs have been selected and recorded for the very first time in studio quality.
Content: The album indeed sounds as the 'early days' of the band, getting us back in the dark magic of the 80s new-wave & cold-wave music. But Sweet William also added certain rock elements in their work. The guitar play brings the 80s nostalgia back alive while Oliver Heuer's vocals have been performed with passion. The song "Coloured Feelings" will maybe appeal for some fans of The Mission.
I'm always a bit skeptical when a band moves back to the early days of their history, but I've to say that this album is a fascinating and fully entertaining piece of music. The rock-wave mix sounds great and passionate. It has been a real good idea to release this album. I don't know how the original versions sounded, but this album has a typical 80s flavor carried with a real good production. No doubt Sweet William did a great job to improve the original sound quality of the songs. The artwork of this digipak also features several pictures from the band's early days.
Conclusion: This album doesn't bring anything new and yet it's an opportunity to discover 'old' songs of this band for the very first time. This is a cool look back!
Best songs: "Coloured Feelings", "Another Place", "Nailed To The Ground", Four Days".
Rate: (7).
Artist: www.sweetwilliam.de / www.facebook.com/sweet.william.dianthus.barbatus
Label: www.d–monic.net / www.facebook.com/dmoniclabel?fref=ts
Sweet William › The early years 1986-1988
THE EARLY DAYS 1986 - 1988 review
Je hoeft geen groene vingers te hebben om het 'Duizendschoon' te zien bloeien. Het Duizendschoon als vrije vertaling voor Dianthus barbatus. Of zoals d'Engelsen zeggen Sweet William. Het mag dan ook niet onterecht zijn dat de Duitse gothic-indie-wave-postpunk-en nog veel meer kastes-band Sweet William er zijn groepsnaam aan ontleende. Schoon wegens niet te vatten in één en dezelfde lading en Duizend wegens een inmiddels sterk uitgebreid release-palmares. Het plaatje klopt.
Sweet William is inmiddels aan zijn 32ste levensjaar begonnen.
Omdat alles een begin heeft en dat wel eens durft vergeten te worden hebben die van Sweet William nu zelf gezorgd voor hun persoonlijke oerknal. De band an sich werd opgericht ten tijde 1986 en met de veelzeggende compilatie The Early Days 1986 – 1988 bieden ze de staalkaart van eigen historie. Een historie die aan de startlijn eerder gebukt ging onder improviseren met de onderliggende gedachte van 'we zien wel waar we uitkomen'. De enige echte muzikant destijds was hun drummer Marius Nagel, de overigen met name Oliver Heuer als vocalist vergezeld van een haast snaarloze gitaar en Bodo Rosner op bas leerden hun instrumenten gaandeweg van naderbij ontdekken.
The Early Days bieden dan wel een overzicht van het prille begin van Sweet William, al werden de tracks recent nog opgenomen en is de progressie duidelijk herkenbaar wegens het in dezer dagen wel kunnen beheersen der instrumentarium. Niet om ons op een dwaalspoor te brengen, maar wel omdat ze geen degelijke geluidsopnamen hebben van toentertijd. Tijden ook waarin ze doelbewust (?) kozen voor een richting die aanleunt bij een eigengereid geluid van een mooie mengeling tussen indie en postpunk. Waarbij vooral de treurnis en meezingbaarheid van Just A Thought, Another Place en All The Same durven op te vallen.
De kleurloosheid van het leven concentreert zich rond An Impression Of Life en verschuilt zich onder hetzelfde vreemdsoortig geluid dat in nog eerdere jaren ook eigen was aan pakweg The Stooges. Vooruitziendheid was er ook reeds met Development Through The Years, toen al wetende dat het begin nog maar het begin was. Een track als 4 Days ademt dan weer een zelfde soort atmosfeer uit die we ook reeds hoorden bij een Sisters Of Mercy, zij het in de melodielijn. Muzikaal dan wel voorzien van een heerlijk samenspel der echte instrumenten. Invloeden uit alle windrichtingen zijn er zeker wel, al weten ze die met veel eerlijkheid naar eigen hand te zetten. Coloured Feelings doet zo wat Chameleons aan, terwijl Nailed To The Ground de fundamenten van een Bauhaus handig weet te verpakken.
De enige track in moeders taal, en met net anderhalve minuut op de teller, is voor het krachtdadige Gelb Und Grün. Sky doet het eerder mysterieus en ingetogen. De terugblik naar de dagen van weleer wordt eerbiedig en bijzonder afgesloten met Only Way Out.
Tijd is relatief zei ooit een slim mens, nostalgie kan meer zijn dan enkel het sentiment van weleer. Met The Early Days 1986 – 1988 blikt Sweet William terug naar de onwetendheid der beginjaren. Vrij recent opgenomen zonder daarbij de feeling van de jaren 80 te verloochenen. De start waarvan de finish nog lang niet in zicht is.
The Early Days 1986 - 1988

D-Monic
26/04/2018, Danny Quetin
TIME reviews:
Sweet William "Time"
(D-Monic/Datakill)
Mit rund einem Jahr Verspätung zelebrieren Sweet William mit "Time" ihren 30. Geburtstag. Das stimmt so nicht ganz: Nachdem die Scheibe 2016 pünktlich erste Gehversuche auf den Weltmärkten unternahm, erfolgt erst dieser Tage eine fokussierte Form der Promotion. Aber wie dem auch immer sei: Älteres und frisches Material fügt sich, wie könnte es bei dieser solitären Band auch anders sein, zu einem stets etwas enigmatisch aufbereiteten Konglomerat aus dezenter Neo-Psychedelia und Wave Rock, wie dies sonst kaum wer hinbekommt. Um Nuancen unterkühlter gefasst, als von unvergessenen Edelalben wie "Kind Of Strangest Dream" gewohnt, ziehen Oliver Heuer und Co. offenbar unbeirrt ihre Kreise, die sowohl den Mainstream als auch den Underground tangieren. Eine beharrlich spürbare Aura des Unvorhersehbaren macht aus "Time" ein in sich nebulös schlüssiges Werk, das sich das Prädikat "spannend" redlich verdient. Und mit ein wenig Geduld schälen sich dann auch veritable Gemütserwärmer heraus. So wie zum Beispiel das erratisch fesselnde "Kind" oder das zehrend lakonische "Out Of This Blue". Tipp am Rande: Die Coverversion von "A Means To An End" (Joy Division) sollte man sich (auch als Gratis-Download) nicht entgehen lassen.
Stephan Wolf

Rezension aus Sonic Seducer, Ausgabe 10/2017.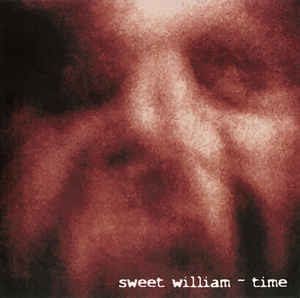 Background/Info: German formation Sweet William released this album for their 30th anniversary. The band was set up in 1986 by Oliver Heuer and has released an impressive number of productions. "Time" was released at the end of 2016, but we only got the album a few weeks ago. It's a collection of previously unreleased songs plus new tracks composed in between 2014 and 2016.
Content: "Time" is an eclectic work, which features the familiar goth-rock sound of Sweet William, but also opens a door to some experiments with psychedelic passages and other influences. The guitar playing is quite impressive on the darkest, gothic songs, and it also excels in the psychedelic. I sometimes get the impression of hearing an imaginary jam session between Joy Division and The Doors.
+ + + : "Time" is one of the most diversified releases by Sweet William I've heard. From pure and well-crafted dark guitar-gothic songs to psychedelic guitar play to more heavenly parts reminding me of The Cure to more evasive songs, this album has a lot to offer. Sweet William feels comfortable dealing with all different kind of influences, but the main strength is the guitar play. From typical dark and anguishing new-wave to psychedelic to fuzzy parts, Oliver Heuer is a talented musician. This is a mature production accomplished with delicate treatments like piano arrangements and electronic treatments. I also have to mention the great vocals' production, which here again features a great diversity.
Conclusion: I'm still convinced Sweet William is one of those bands that should have deserved more (international) recognition during their entire career. "Time" is a great goth-rock production featuring multiple cool songs.
Best songs: "Room", "Say Good Bye", "Out Of Here"', "Slow Down", "Slow", "Funny".
Rate: (8).
http://www.side-line.com/sweet-william-time-cd-album-d-monic/
ORGANIC SHADES reviews: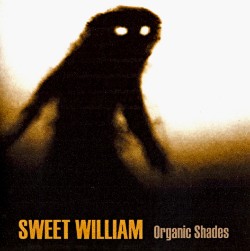 Background/Info: Sweet William has already been active since the 80s and can look back at a serious discography. Some early productions were released on Hyperium Records while they later on self-released a lot of work and they joined hands together with D-Monic as well. The German formation driven by the creative spirit of Oliver Heuer is now back on track unleashing a new opus featuring 4 cover versions, 4 songs taken from previous albums and one new cut. The main characteristic of the record is the 'acoustic' format of the songs.
Content: Whitesnake, Joy Division, NIN and Electric Light Orchestra inspired Sweet William to compose cover versions. They transpose the original music into a very own adaptation characterized by gothic, rock and even folk-wave influences. It sounds dark and dreamy.
The previously released songs (taken from the albums "Ocean" and "Time" are quite comparable in sound and influences while the final (new) song is an instrumental outro.
Conclusion: "Organic Shades" reveals a sensitive side of Sweet William, which has been transposed into cover versions. The cover songs have been reworked and adapted like very own songs and the result is worthy of examination.
Best songs: "New Dawn Fades", "Here I Go Again", "Hurt".
Rate: (8).
(side-line magazin, Belgium May 2017)
www.side-line.com/sweet-william-organic-shades-cd-album-datakill-records/
OCEAN reviews:

Sweet William
Ocean
D-Monic
Buy It
Guillaume Renard
Sweet William – Ocean (CD Album – D-Monic)
Posted on 06/03/14

Content: We got this promo copy of the latest Sweet William-album with some delay, but I couldn't resist sharing my enthusiasm with you. Sweet William can be considered as veterans active on the gothic scene, but at the other side they're not exactly the most prolific band. Sweet William rather releases albums on irregular basis, which each time again gives me the sensation to rediscover this formation.

"Ocean" brings us back to the glorious and still that inspiring days of the 80s. I can easily speak about influences merging between The Sisters Of Mercy and The Mission. But I also have to mention Joy Division, which Sweet William has tried to bring an ode covering the legendary "New Dawn Fades". Let's start with this cover, which is a rather exiting version revealing the dark and 100% new-wave inspiration. Other songs remind me of real good souvenirs from bands like The Cult and even The Stooges. A song like "Insane" has this raw and dark touch reminding me of The Stooges. There's a good balance in the mix of guitar, bass, drums and electronics. That's what makes the sound of this new work featuring 18 songs.

The diversity between the tracks is another and main element of the album. I can't imagine an album with 18 songs in a similar vein. Sweet William has this delicacy to inject surprising cuts like the outstanding piano-ballad like "Until You Sleep". I also like the lyrical content of this track. The song creates a delicious contrast with the more evasive, and Sisters Of Mercy reminding, "Turning" coming next. And there's even more diversity. So I have to mention the instrumental "Tsunami", which appears to be a kind of intermezzo. "Ground" again sounds pretty different and seems to get inspired by triphop elements. But next to this cool diversity there also is a very homogeneous aspect, which is mainly carried by the evasive format of the songs. You definitely can hear all the maturity of Sweet William that comes through in a professional production resulting in well-crafted and efficient songs. I like the delicacy of the writing carried by great choruses.

Conclusion: Like an 'ocean' this album sounds like an invitation to get driven by dark waves to explore imaginary unknown places. This is a fully accomplished piece of work featuring a few little pearls.

Best songs: "Until You Sleep", "Ocean", "New Dawn Fades", "Turning", "Reach Out", "A Walk Down To The Sea".

Rate: (Elise Din:8)ED.

Band: www.sweetwilliam.de

Label: http://www.d-monic.net / www.facebook.com/dmoniclabel?fref=ts
Sweet William › Ocean
chronique
note Publiée le lundi 26 août 2019
SWEET WILLIAM - OCEAN
Sello: D-MONIC
http://youtu.be/zmW9VFKMo-s
Los legendarios artistas del sello Hyperium vuelven con un nuevo disco conceptual bajo el brazo que es una pura delicia: Se abre con un prólogo instrumental que deja paso al tema que da título al disco, "Ocean", recuperando el SONIDO CLÁSICO por el que son conocidos y volviendo sin duda a sus raíces. "Ocean" retrata los abismos humanos, la debilidad, soledad y permanencia, narrando además temas de belleza, esperanza, sueños y confianza en la vida. Baterías potentes, pasajes electrónicos que crean atmósferas tenebrosas, guitarras firmes y voz sugerente rezumando todo ello puro GOTHIC ROCK. Incluye una maravillosa versión de Joy Divison ('New Dawn fades').

TEMAS: 01. Prologue, 02. Ocean, 03. Fly away, 04. Insane, 05. New Dawn fades, 06. Welcome to the Show, 07. Until you sleep, 08. Turning, 09. Beautiful Sky, 10. Tsunami, 11. Reach out, 12. Everytime and everywhere, 13. Silence, 14. Last Restart, 15. Ground, 16. Over, 17. A Walk down to the Sea, 18. The End of the World
Gothic - Post Punk - Psychedelic - Rock

D-Monic
19/07/2013, Kurt Ingels

Het nieuwe album, "Ocean", toont aan dat het menens is voor Sweet William en dat het comeback album "Brighter Than The Sun" (2010) niet zomaar een onschuldig tussendoortje was, een stuiptrekking van vergane glorie. Nu is er "Ocean" een conceptueel album waarbij de oceaan wordt aangevoerd als metafoor voor het leven en de existentiële vraagstelling die met intelligent leven gepaard gaat. Zoals de oceaan kan het leven kalm en mooi zijn maar evenzeer heftig en stormachtig. De oceaan neemt en geeft leven.
Na een korte neoklassieke opener met meeuwengekrijs als toemaatje, pakt Sweet William meteen met het titelnummer uit, "Ocean" dat meer aansluit bij het oude begin jaren 90 werk van de band, lees; meer richting krachtige gothic rock. Volgens de persbio zou dit nieuwe album dan ook dichter aansluiten bij het oude materiaal en dat is zeker ten dele waar.
De muziek van Sweet William blijft evenwel eclectisch klinken en laat zowel indie rock, psychedelica, tot elektronische arrangementen en pop toe in het totaalgeluid. Niet voor één label te vangen dus, de muziek blijft even grillig en onvoorspelbaar als de albumtitel hoewel het totaalpakket meer aansluiting vindt bij gothic rock / dark wave dan het comeback album "Brighter THan The Sun".
Nummers als "Ocean", Insane", "Welcome To The Show", het dromerige "Last Restart", "Over" of "Ground" zijn nummers met potentieel. Ook de cover van de Joy Division klassieker "New Dawn Fades" werd met veel sinecure en respect voor het origineel in elkaar gezet. Met "Ocean" bewijst Sweet William terug van weg te zijn geweest en weten ze hun jarenlange ervaring te verpakken in een matuur, sfeervol album dat een extra dimensie geeft aan de vertrouwede gothic rock sound. Soms poppy, dan weer psychedlelisch en af en toe een stevige goth rocker maken "Ocean" niet alleen veelzijdig maar een aangename luistertrip voor al diegene die zich niet door een zwart gat (lees genre etiket) laten vangen.
(darc entries, july 13)
Almost thirty years' experience behind them and yet Sweet William doesn't cease to surprise us with its music. Once again, the Germans go far beyond the scene's clichés and stereotypes with the release of "Ocean".
Oliver covers all with his distinctive voice, which is full of depth and longing. The powerchord solos inject a healthy dose of energy into the track over its last third. With no doubt, "Ocean" is one of the winning cuts
One of the album crowning moments comes next. In "Insane" the assertive, hair-raising rock guitar figures and intense drumming draw the kind of apocalyptic goth rock soundscape
Another highlight is their awesome cover version of Joy Division's classic "New Dawn Fades". Yet deeply respectful with the original song's passion, Sweet William has turned the screw even further in its interpretation.
(Billyphobia 2013)

read the complete review on
Sweet William - Ocean ( 2013)
Desde el pasado 31 de marzo esta disponible este magnifico disco que pase por alto y que recientemente descubro no sin jubilo ante tal maravilloso descubrimiento.
Se trata de Sweet William a lo largo de los 18 temas que componen este trabajo conceptual por titulo Ocean no sumergimos de lleno en sonidos en un sensacional sonido de rock con una excelente voz que parece envolverte con cambios de ritmos belleza en su musica con un sonido muy minimalista y toques electronicos que se fusionan a la perfección.
Ahora podreis escuchar su disco integro ademas el disco encierra en su interior una versión de Joy Division el temazo New Dawn Faces en el 5 corte, sin mas dale al Play.
gothtelera - spain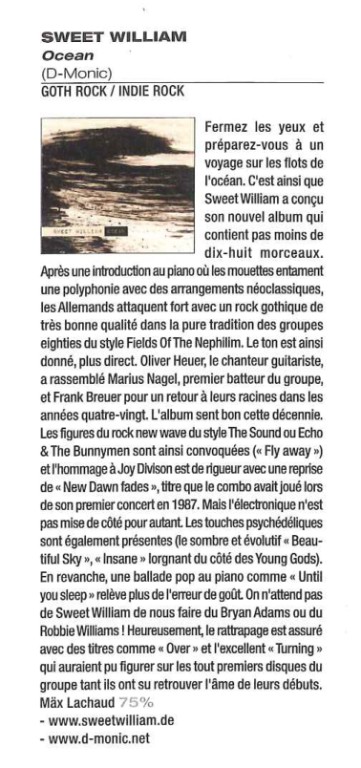 (Obsküre France 2013)
KIND OF STRANGEST DREAM 2012 (rerelease)
Sunday, July 14, 2013
Sweet William - Kind Of Strangest Dream (2012) Re-released

Sweet William
Kind Of Strangest Dream (Re-released)
Guillaume Renard
Kind Of Strangest Dream (heruitgave)

Gothic - Psychedelic - Rock

Infrastition
07/10/2012, Kurt Ingels

Sweet William zag het levenslicht in 1986 en is op heden nog altijd actief, zo verscheen in 2010 op het Franse D-Monic "Brighter Than The Sun" en op een ander Fans label, Infrastition, is nu een heruitgave van het conceptalbum "Kind Of Strangest Dream" dat oorspronkelijk in 1992 bij Hyperium verscheen, gelimiteerd heruitgebracht.
De groep begon ooit als een gothic rock band maar liet later, en dat is al hoorbaar op deze cd, een veel bombastischer en psychedelischer geluid na dan op de vorige werken. Een huzarenstukje waarop Led Zeppelin en Fields Of The Nephilim een paringsdans aangaan. Wat je krijgt is dan mossel noch vis, maar anderzijds is deze "Kind Of Strangest Dream" best een aantrekkelijk luisterstuk, zeker als uw voorkeur de hallucinante jaren '70 rock en gothic rock wegdraagt. En al zullen ze niet bij bosjes rondhuppelen deze liefhebbers, ze bestaan, geloof me.
U krijgt op deze fraai verpakte heruitgave 2 bonusnummers en het nooit eerder uitgebrachte "Free Just Free" wat het totaal op 12 nummers brengt in plaats van de originele 9. Ik geef toe dat ik me persoonlijk beter kon vinden in het pure gothic rock geluid uit de eerste levensjaren van het Duitse Sweet William, maar de groep was en is niet te beroerd om te evolueren, op "Kind Of Strangest Dream" gaan de donkere gitaren en strakke ritmes het duel aan met psychedelisch gitaar plukken en geestesverruimende verhaallijnen.
(K. Ingels - darc entries)
Sweet William – Kind Of Strangest Dream
(CD – Infrastition)
Posted on 12/02/12
Sweet William is quite a familiar name for all gothic and new-wave lovers. Infrastition has picked up this artist to celebrate the 20th anniversary of the album "Kind Of Strangest Dream". This CD was originally released in 1992 on the great German label Hyperium Records. This reissue is a kind of gift for all fans and those who didn't buy the original version and an ode to Oliver Heuer (aka Sweet William).

The album hasn't really lost its original splendor and part of reverie. Sweet William moves in between softer and ballad-like inspired songs on one side and harder songs on the other side. The guitar playing was one of the main characteristics of the release. Sweet William sometimes walks throughout endless guitar passages and solo parts. "A Creation Of My Thoughts" is one of the most noticeable cuts in the genre. I also like the half-spoken vocal parts on this song. Another remarkable cut in the genre is "An Offer (That Can't Be Refused)" although I've to say this song also features psychedelic passages.

But I first of all remember this album for its softer and more ballad-inspired songs. One of the most noticeable tracks in the genre remains "Sweet Smile Glow". I also want to mention the darker and poetry-like "A Thursday Morning (A Short Story Of My Mind)".
The reissue of the CD also features 2 bonus songs. That's a nice gift and attention for the fans, but to be honest with you not the most significant songs of the album. I think it would be a good idea to re-release some other Hyperium releases as well.

(Elise Din:7)ED.
Sweet William › Kind of strangest dream
chronique
note Publiée le lundi 30 juillet 2018
BRIGHTER THAN THE SUN reviews:
Sweet William › Brighter than the sun
Hier kann man sich ergötzen an Kratzgitarren, schillernden Leadgitarren, tief pumpenden, hier und da in klassische Achtelfiguren verfallenden Bassgitarrenläufen, schön hölzern klingenden Snares – und über allem schwebt die melancholische, zumeist in den tieferen Lagen agierende Leadstimme. Eine berührende, fesselnde Stimme, die oft in weite, psychedelisch anmutende Hallräume gesetzt wird. Man könnte das Gesamtbild womöglich als melancholisch stimmenden Post-Rock bezeichnen, der sich zwar der guten alten Zerrtongitarren bedient, vor allem aber ruhig und souverän in sich schwingt. Zwischendurch ertönen Pianoklänge, geheimnisvoll säuselnde Keyboardflächen durchziehen den Hintergrund, kleine Ausflüge in den Funk und sogar ein wenig in den Prog-Rock erlauben sich die Musiker gar. Eine Platte, um mit ihr den Sommer zu verbringen: Traurig und doch verheißungsvoll, mit Momenten überschwänglicher Emotionalität, die eine eigene kleine Magie hervorzurufen vermag. Wenn man sich hierauf einlassen kann – ein bisschen mehr Biss würde dem Gesamtbild womöglich nicht unbedingt schaden. Erstaunlicher Nebeneffekt: Die insgesamt einnehmende Leadstimme von Oliver Heuer beinhaltet Nuancen von Jim Morrison, und manchmal erinnert sie an Dave Gahan.
(sonic seducer, kym gnuch)
In den letzten Jahren sind sie anscheinend komplett in den Tiefen des Internets verschollen und haben quasi nur für sich selbst ohne Label- oder Medienunterstützung Musik produziert. Nun aber, mit dem französischen Label D-Monic im Rücken, ist sie wieder da, eine der wichtigsten, psychedelischsten (und leider wohl auch unbeachtesten) Bands des deutschen Gothicundergrounds. Tatsächlich sind zwölf Jahre nach dem phantastischen letzten Album "Show" vergangen. Im Sound des Trios hat sich seitdem einiges getan. Trotzdem klingt die Band, die schon seit 1986 aktiv ist auch heute nach ihrem 1992 erstmals auf dem Album "Kind Of Strangest Dream" präsentierten ganz eigenen charakteristischen Bandsound: Dieser bestand und besteht aus der Urformel des Rocks von den späten 60ern bis heute vermengt mit der Essenz vom Gothic und Wave der 80er-Jahre; immer melancholisch und voller Magie. Ganz wie die letzten schönen Tage eines wichtigen Sommers. "Brighter Than The Sun" ist eine dieser CDs, die man zunächst ganz schön oft hören muss um eine Beziehung zu ihr aufzubauen. Die man dann aber noch Jahre später immer wieder gerne zur Hand nimmt. Eine CD, die dann mitunter schmerzhaft an jene alten Zeiten und die dazugehörigen Gesichter erinnert.
9 = fantastisch - Uwe Marx
(Gothic, Germany Oct 2010)
After a long hiatus and some line up changes the band strikes back in 2010 with abrand new and delightful album entitled 'Brighter than the sun' where their show once again their ability to create strong songs with wonderful melodies.
Their psychedelic gothic sound is now enriched with electronic sounds, the result is absolutely incredible!
(tonelist, Iceland June 2010)
Sweet William is one of the newest signings on the French D-Monic. Hailing from Germany we can consider Sweet William as a 'big fish'. They can look back on an impressive discography, releasing albums on labels like Hyperium, Dion Fortune, Dianthus Barbathus and more recently on Datakill.
Sweet William sounds like a mature band moving on in their very own style. New wave has always been a source of inspiration for them, but I've always liked the way they transpose their influences into a personal writing. It sounds now refreshing (cf. "Lonely Bedroom") and than moody (cf. "Creature"). Later on it moves into a quite energetic way (cf. "Timeless") to finally come into a groovy-wave style (cf. "Transsize" and "Alright"). Sweet William even comes to a kind of funky-wave style (cf. "Backflow"). The originality is definitely a trademark from this band, but being original and that creative the same time is not that evident to find. "Brighter Than The Sun" brings all these elements together on one single release! Guitars and electronics have been remarkably joined together while the vocals, which aren't the main aspect are however finalizing the composition. Sweet William tent to prove that new wave is still alive and in constant motion!
(Side-line Music Magazin, Belgium, 06.2010)
Ein recht unkonventionelles Album hat es heute in die Besprechung geschafft. "brighter than the sun" heißt das gute Stück und ist der neueste Wurf der Elektro-Rocker SWEET WILLIAM. Auf 14 Titeln toben sich die Herren mit einer Mischung aus Psychedelic und Prog sowie Elektro gehörig aus. Häufig findet man sich als Hörer da dann auch mal in den harmonischen Sphären des frühen Trance wieder. Manche Melodien, die da hervorgezaubert werden – z.B. im Titel "backflow", wo sich die Percussion-Lines wunderbar mit Gesang und Basslines verschmelzen – sind echt klasse, Respekt.
(Local Calling, Germany, 06.2010)
Psychedelischer Gesang trifft Elektro-Rock.
Genau das bietet "Brighter than the sun". Sphärischen Elektro-Rock, der sich irgendwo zwischen David Bowie und Depeche Mode ansiedelt. Gleich zu beginn können Sie mit dem Opener Be Around begeistern. Trifft doch gleich zu Beginn, genau oben beschreibenes voll ins Schwarze...
(FSR Magazin - Germany, 05.2010)
Dopo lunghi anni di silenzio tornano finalmente a pubblicare un nuovo album per la D-Monic gli Sweet William, progetto portato avanti con insistenza e caparbietà fin dal lontano 1986 per opera del leader (e unico membro superstite della formazione iniziale) Oliver Heuer. Negli anni trascorsi il loro curriculum si è arricchito di numerosi album pubblicati per quattro diverse etichette (fra cui Hyperium e Dion Fortune), prestigiosi tour (uno dei quali culminato al Marquee di Londra) e un quattordicesimo posto nella classifica tedesca di musica alternativa. Ad oggi il gruppo di Colonia si presenta come un trio dove la leadership indiscussa rimane nelle mani di Oliver, che, coadiuvato dal bassista Frank Breuer e dal batterista Markus Gerlach, si divide tra vocals, chitarre e synth. Anche la direzione musicale, com'è giusto che sia dopo tutti questi anni, si è evoluta, virando da classiche sonorità goth-rock verso una sorta di raffinato e singolare electropop. Le contaminazioni presenti sono tra le più variegate: ci si può imbattere nella new wave dell'iniziale "Be Around", per poi abbracciare il suono più caldo, quasi blueseggiante di "Creature", caratterizzata da un languido mood e da un soporifero riff di slide guitar. La cosa affascinante sta nel fatto che a queste sonorità viene associata la freddezza di drum machine e beat elettronici minimali, ricordando a tratti le atmosfere della colonna sonora di "They Live" di John Carpenter e Alan Howarth, o l'eterogeneo album "Phoenix" degli Xymox. Restando sulla parte ritmica, è curioso notare come, in un contrasto di opposti, certi brani elettronici presentino una batteria reale ("Lonely Bedroom"), mentre altri quasi totalmente acustici siano supportati da batterie elettroniche. Lungo i 68 minuti dei 14 brani presenti su "Brigher Than The Sun" ci si può quindi imbattere nella psichedelia swing di "Backflow", nei sincopati ritmi post-rock di "Shimmer" e "So Long" e nel new romantic alla Simple Minds di "Never Leave". "Reflection" può apparire invece come un improbabile incontro tra i Third And The Mortal di "Memoirs" ed i francesi Noir Desir. C'è anche spazio per l'electropop di "Transsize" e l'ambient di "Outro". Insomma, ogni canzone è diversa dalla precedente. Non è mai facile entrare pienamente nell'ottica di proposte così variegate, che sembrano denunciare una mancanza di personalità, un'irrisolutezza interiore o, nel peggiore dei casi, una subdola e megalomane voglia di essere amati da tutti. In questo caso, però, un filo conduttore c'è, e si sente: innanzitutto la sensuale voce di Oliver, a metà strada tra Bono Vox, Wayne Hussey e Adrian Borland; poi quella dolce ricercatezza di semplici e pacate armonie che sono state per anni il punto di forza di gruppi come Sad Lovers And Giants, The Chameleons e Kitchens Of Distinction, anche se in questo caso traslate in un contesto più variegato. Un punto debole lo si può comunque scovare: i brani di "Brighter Than The Sun" appaiono troppo spesso come il frutto di sessioni di improvvisazione, rimanendo intrappolati in quella struttura; alle volte si sente la mancanza di veri e propri ritornelli da poter canticchiare, come nella maggior parte delle proposte di chiara matrice pop. Tuttavia, "Brighter..." rimane comunque un buon lavoro. Un album nostalgico, coraggioso e particolare, che mescola sapientemente le atmosfere degli anni 80 con elementi pescati dai generi più disparati, denso di personalità e capace di creare una propria atmosfera dall'inizio alla fine. Al di là dei gusti personali, non ci si può esimere dal fare un plauso a Oliver e ai suoi Sweet William.
(Silvio Oreste - darkroom magazin - Italy)
Die ersten beiden Lieder sind schonmal hitverdächtig ...mal reinhören - es wäre ein Fehler das zu unterlassen ...
(Der Medienkonverter - Germany)
Sweet William › Development Through The Years 1986 - 1993
chronique
Publiée le vendredi 27 octobre 2017
Other reviews:
Dass SW wieder da sind, habt ihr ja sicher schon dem Artikel in diesem Heft entnommen. In der Zeit, wo man nahezu nichts von der Band gehört hat, sind sogar einige absolut hörenswerte Veröffentlichungen erschienen, von denen sich vor allem die beiden oben genannten Alben lohnen. Wer noch die alten SW Sachen kennt, wird die Formation kaum wiedererkennen, denn der Sound hat sich schon stark verändert, ist aber nicht minder gut. Auf "Welcome Tomorrow" und "World" sind einige Einflüsse von Depeche Mode zu erkennen, allerdings ist der Sound wesentlich gitarrenlastiger. Samples und Drumloops, die eher vom Trip Hop insperiert scheinen, verleihen der Musik einen sehr rhythmischen, modernen Charakter. SW sind eindeutig im 21. Jahrhundert angekommen und klingen modern und frisch wie nie. Der auf unserer Compilation enthaltene Song "Skin" (vom WORLD Album) erinnert mich wiederum etwas an The Mission, allerdings ohne den üblichen Hussey-Schmalz Pathos. Durchaus ein Stück, was auch im Radio laufen könnte. Wenn`s nach mir geht, steht SW die Zukunft offen. In diesem Sinne "Welcome Tomorrow"
(Transmission/Ch. Pommerening 2006)

Es gibt keine Band mit der ich SWEET WILLIAM vergleichen könnte, und alleine das spricht für Qualität ...
(Bodystyler Magazin CD Tip des Monats 1998)
So wirkt auch "Full Of Light" vom neuen SW Album souverän, relaxt und entspannt.
(Eclipsed Magazin inkl. CD Beitrag 2001)
Sphärische tranceartige Gitarren und ein Bass mit Pink Floyd Touch, dazu eine ausdrucksstarke Stimme. Was will das psychedelische Herz mehr. Diese CD sollte man haben ...
(Astan Magazin 1998)
... ich bin absolut begeistert und kann mich einfach nicht satthören ...
(My Way 1998)
Anläßlich eines Konzerts im Würzburger Zauberberg Teil einer ausgedehnten Tour wurde ich Zeuge des Phänomens SW. Zeuge einer pychedelischen Jagd über Schlagzeug, Bass und Gitarren, einer Jagd nach den richtigen Sound zum rechten Augenblick. SW ist ein lautloses Ereignis außerhalb der Bühne, auf der Bühne aber tobt dieses Ereignis in unglaublicher Hingabe an seine Musik.
(Sub Line 1994)
SW haben absolute Perfektion erreicht.
(Ausweg Magazin 1994)
it's the 4th time I listen to "Show" because SW actually capable of hypnotizing the listener and becoming a kind of background of your life ...
(DLK, England 1999)
Die abgedrehteste Scheibe seit langen ...
(Fight Amnesia 1997)
SW hatten den Sound einer Superband, vergleichbar mit den großen alten Psychedelikern wie etwa Hawkwind.
(Gothic 1991)
Man begibt sich auf eine psychedlische Reise weit ab von allem irdischen und fliegt durch Zeit und Raum, so das man echt aufpassen muß nicht die Orientierung zu verlieren ...
(Fatal Underground 1994)
Electro Rock mit eingängigen Melodien vom Feinsten.
(Radio Köln 2003)
REVIEW LINKS:
http://luxatenealibros.blogspot.de/2012/09/sweet-william-show.html
www.discogs.com/artist/Sweet+William

www.nestor.minsk.by/mg/1999/06/mg90607.html
www.nestor.minsk.by/mg/1999/06/mg90619.html

COPIES: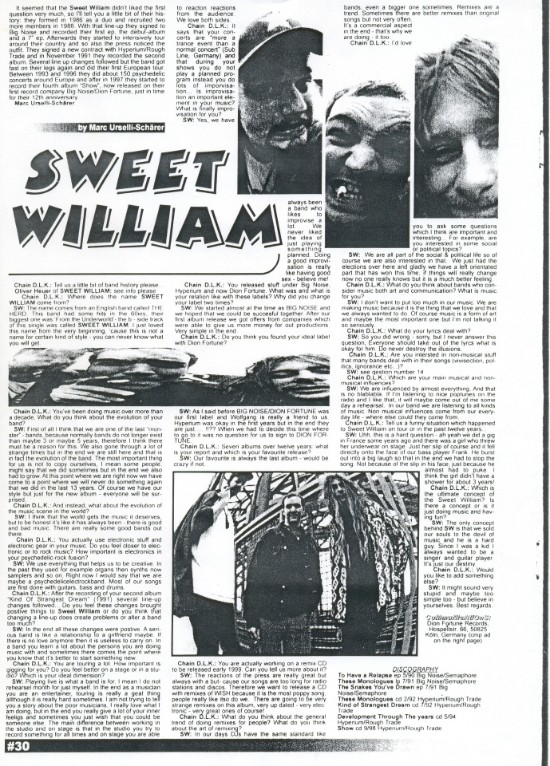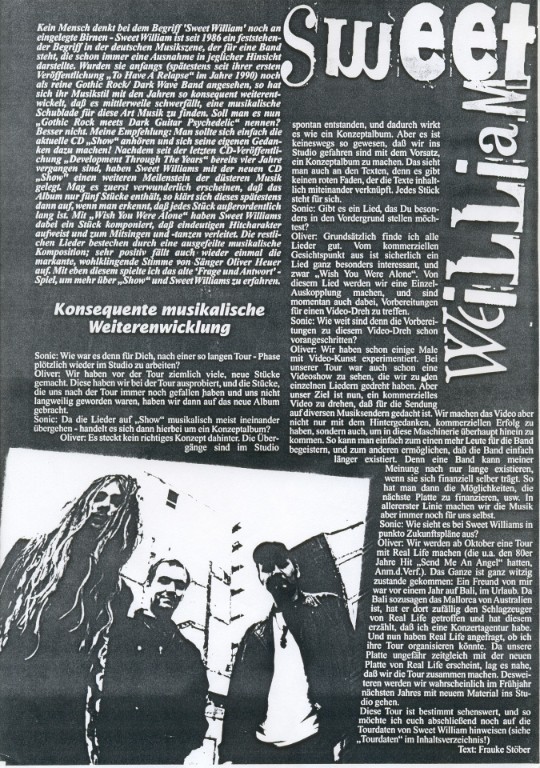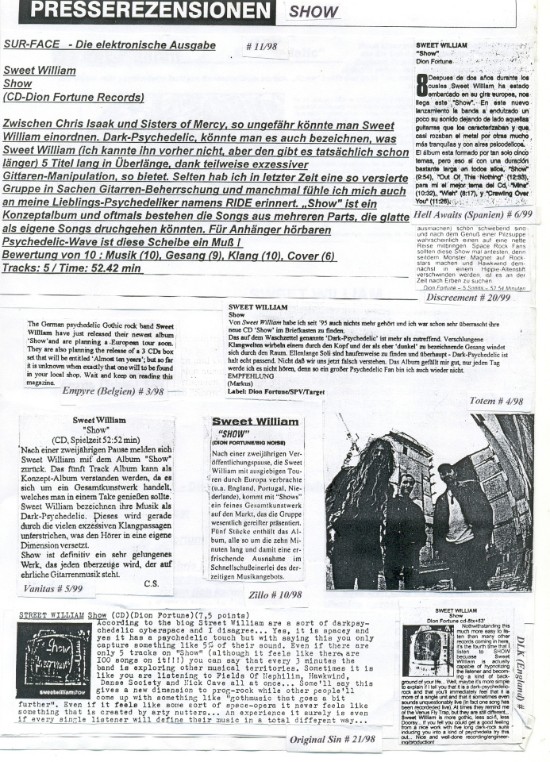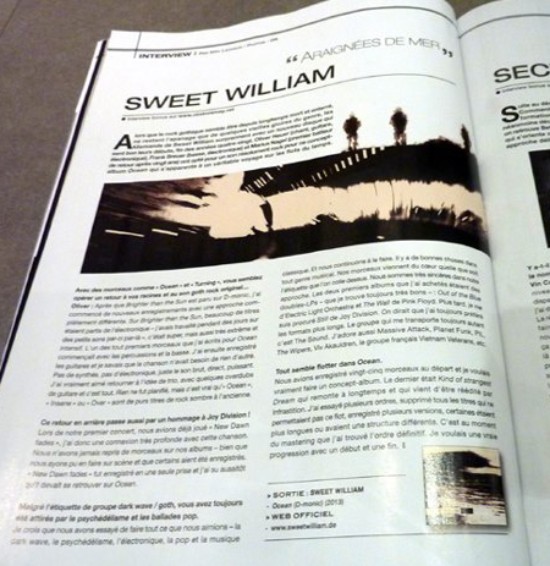 (Interview Obsküre Magazin - France 2013)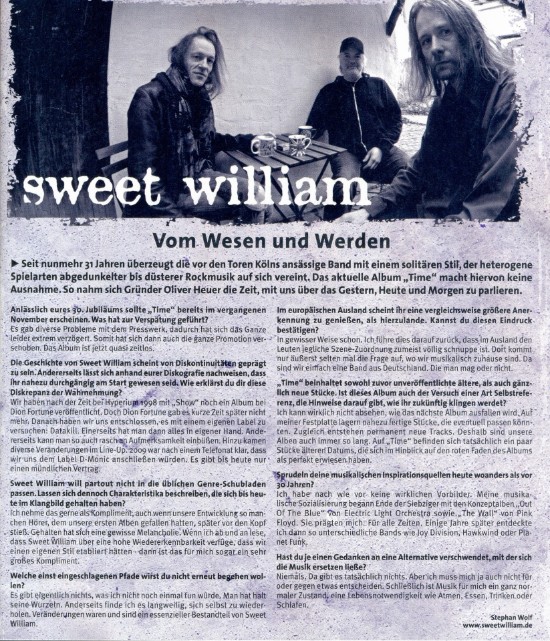 (Sonic Seducer inclusive CD Compilation "My Ignorance" Nov 2017)
new album "Laughter Filled With Pain"